JIM PARKER
IN MEMORIAM: JANUARY 1, 1947 – JANUARY 26, 2019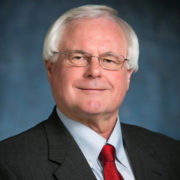 Texas lawyer and airline executive James F. Parker, who was universally known as "Jim" to his friends and colleagues, died unexpectedly at his home in Dallas after enjoying dinner with close friends. He was 72 years old.
A graduate of The University of Texas at Austin, Jim joined the Office of the Attorney General of Texas after law school, followed by a successful career in private practice in San Antonio. Jim became the Vice President-General Counsel of Southwest Airlines Co. in 1986.
In 2001, Jim was chosen to succeed Herb Kelleher as Southwest's CEO and also assumed the role of Vice Chairman of the Board. Jim took enormous pride in leading the airline through the challenges of those years. Jim loved the Employees of Southwest, and he regarded the avoidance of any job reductions after September 11 – a singular accomplishment in the global airline industry – as his greatest professional achievement.
Jim retired from Southwest in 2004, and in his semi-retirement served on the Board of Directors of Texas Roadhouse and Sammons Enterprises, Inc., and as a partner in Texas Aviation Partners. He also traveled extensively with Pat, his wife of 28 years, whom he loved deeply since they met on the West Mall at UT. While he enjoyed new locations, some of his favorite trips were to locales he had regularly visited to see his beloved Longhorns – Dallas' Cotton Bowl, Pasadena's Rose Bowl, and most recently, New Orleans' Sugar Bowl.
Jim is survived by his wife, Pat; his children, James and Jennifer; and his grandchildren, Maximilian and Sydney.